GrandCare for Network Health Members
Online resources to get the most out of your GranCare experience.
Could you use a quick tour of your GrandCare touchscreen? The video on the right walks you through each and every feature available to you. You can also watch this video at any time on your touchscreen. Just touch Main Menu, then Network Health, then touch the Video Tour button.
Would you like to have a video chat with your family? It doesn't cost a thing and you can do it right from your GrandCare touchscreen. First they must be added to your account. There are two ways to achieve this. 
Get their email address and cell phone number. Then give us a call at 1-866-709-0019. We will add them for you right over the phone.
Find your unique System ID number. It can be found on the back of the touchscreen or by touching Main Menu and then Get Support. Give that number to your family member and have them call us at 1-866-709-0019.
Either way, you can add as many family members as you like.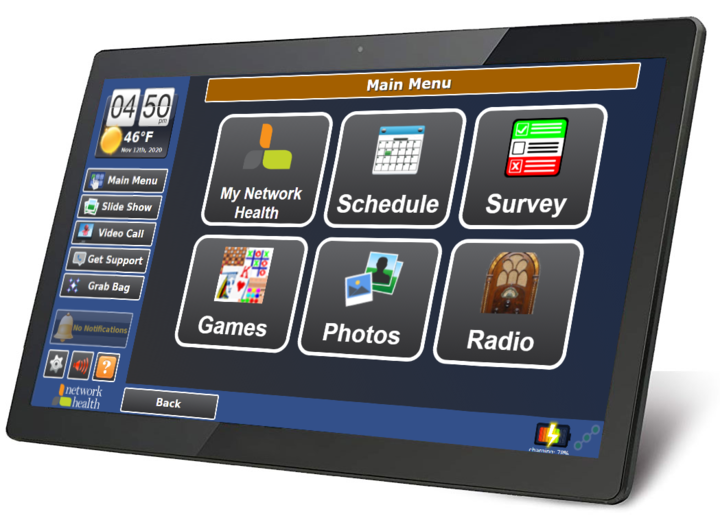 Hot Tips!
Use GrandCare like a pro.
Leave it on!
If you turn GrandCare off, no one can call you or upload photos for you. And besides, GrandCare automatically turns the screen off every night at 8pm. It turns itself on again in the morning. You can still use GrandCare if you're up late, though. Just touch the screen to wake it up for a late night game of Klondike solitaire. If you would like the wake/sleep hours to be different, we can change them for you. Just give us a call at 1-866-709-0019.
Volume Controls
Change the volume of GrandCare's speakers by touching the speaker icon in the lower left corner. From there, use the + to increase the volume or the – to decrease it. GrandCare can also be used with external speakers or headphones–you just plug them in in the back.
Battery Backup
GrandCare is meant to be plugged in at all times, but there is a backup battery inside GrandCare. This is handy for moving it from one location to another without having to turn it off. Just unplug it, move it, and plug it back in at its new location.