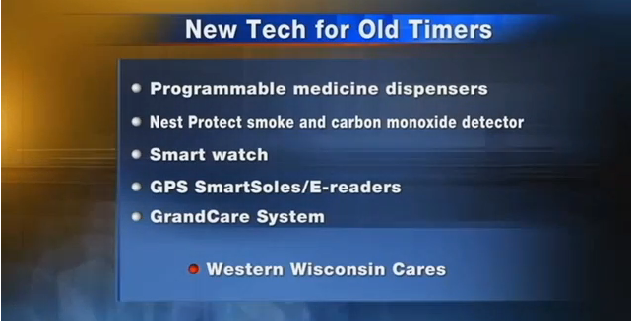 GrandCare hailed as "Granddaddy of all Tech Tools for Seniors"
GrandCare was back on TV.
In a feature on ABC News 19 (WXOW in La Crosse), GrandCare was highlighted as one of five tools recommended to keep seniors living safely and independently in their homes as long as possible.
The segment, called "Making Technology Work for You," which aired on May 3, described the technology available today to help seniors and people with disabilities live more independently and enjoyably as impressive. "As people are living longer, technology is only getting better."
The segment featured Stacy Mitby, Service Coordinator for Western Wisconsin Cares, a nonprofit that provides long-term care services in the western region of Wisconsin, with the mission of  keeping members as independent as possible. It operates under a contract with the Wisconsin Department of Health Services.
One of the things Mitby liked about GrandCare is that, "it's programmable, so you don't need to go through an agency. It can alert your family or your friends, your support system, if you need help." She also praised how easy it is to use. "It's technology I can use, without having my children teach me."
GrandCare was described as the "granddaddy of all tech tools for seniors."
"The systems cost $699, plus $49 monthly subscription fees, but they pack in a lot of features. The GrandCare System has many of the same features you'd find in other tools, such as smart watches and medicine dispensers, plus it can be used in any setting and can record blood pressure, weight, pulse, blood glucose and temperature. It's a communication, care management and activity sensor all wrapped into one touchscreen device."
https://www.grandcare.com/wp-content/uploads/2016/05/GC-Tech-News.png
357
632
info@lmcllc.us
https://www.grandcare.com/wp-content/uploads/2021/05/grandcare-logo-300x138.png
info@lmcllc.us
2016-05-11 11:55:59
2016-05-11 11:55:59
GrandCare hailed as "Granddaddy of all Tech Tools for Seniors"