HIPAA-Compliant Telehealth & Home Monitoring for Senior Care
GrandCare is a connected health solution for aging and disability populations.
Social Engagement. Telehealth. Secure Video Calls.
GrandCare is the world's most advanced remote monitoring, communications, and engagement platform.
GrandCare's touch-based platform is used by seniors, people with disabilities, and people managing chronic health conditions. GrandCare is used in private homes, senior living communities, group homes, and other settings.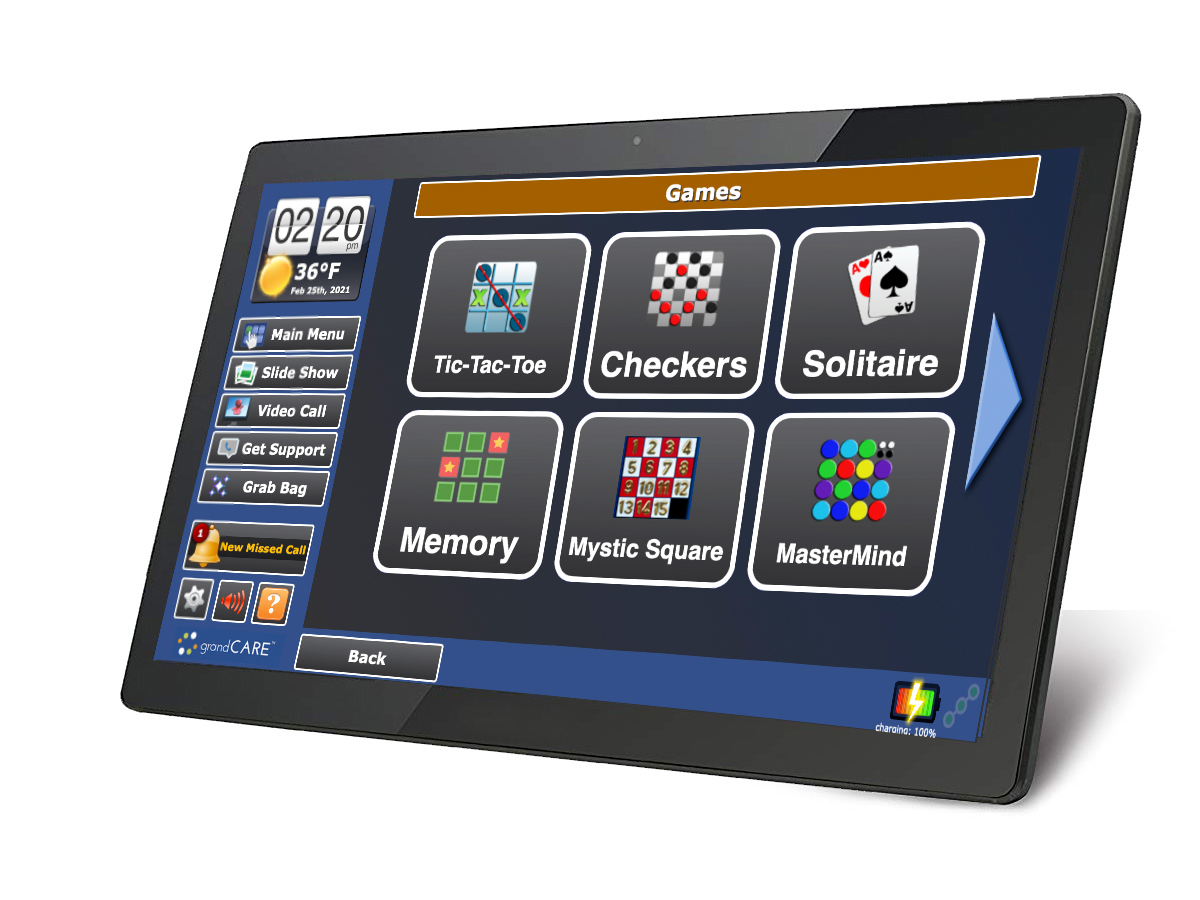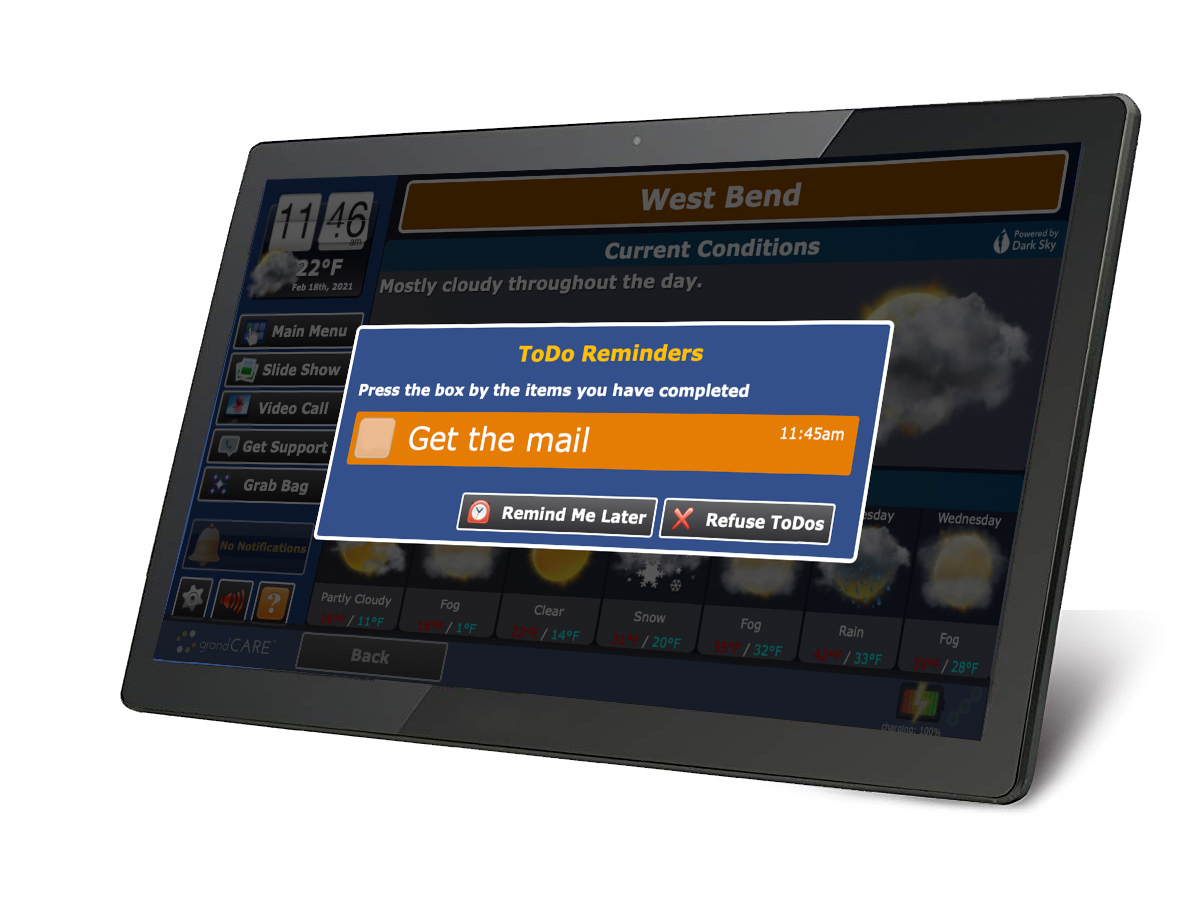 GrandCare for I/DD: Cognitive assists, remote supports, greater independence. 
People with intellectual and developmental disabilities have been using GrandCare for independence and remote supports for many years. But a couple of years ago we began to address their needs head-on, to develop new features just for them. The response has been incredible. Disability support organizations all over the country are now adopting GrandCare to promote independence, deal with staff shortages, and support more people. Watch this webinar to see which features are being used to achieve these goals. 
What can GrandCare do for you?
I am looking for…
My Clients at Home
Augment your in-home care with virtual visits, telehealth monitoring, and activity sensing.
Plus, you can serve people who don't yet need in-home care by offering remote monitoring with GrandCare.
Volume Pricing Available
My Senior Community
Take your community to the next level with a GrandCare touch in each room. Community-wide messaging, video chat, family connection, schedules and concierge service ordering options. Add on Telehealth or activity monitoring sensors at any time.
Volume Pricing Available
My Disability Organization
GrandCare can help individuals achieve greater independence with detailed reminders, easy one touch video chat & messaging. Perfect for group homes and remote professional staff.
Learn More
Myself or a Loved One
GrandCare is the easiest way for individuals to remain connected with remote family and provide customized activity alerts for caregivers.
Learn More
"GrandCare has changed the way we offer care. We use it to remotely monitor our clients' vitals and quickly identify if a physical nursing visit is needed. It's been a Godsend for our hospice clients who use it for end-of-life conversations."

Telehealth
Wireless health devices, interactive assessments, and medication management tools at your fingertips.

Activity Monitoring
Wireless motion and door sensors monitor daily activity levels without sacrificing independence or privacy.

Social Enagagement
Residents can instantly access video chat, photos, letters, and calendar events from family and caregivers.
Add GrandCare's HIPAA-compliant virtual visits to your existing service offerings
GrandCare's all-in-one touchscreen enables you to remotely check in with your clients, and they can video chat with their friends and family. It can remind them when to do things and provide entertainment and greater family connection. Add telehealth devices to be notified of potential red flag symptoms and wireless motion sensors to know that your client is up and about. Why wait? With GrandCare you can provide services to your clients even when you're not there.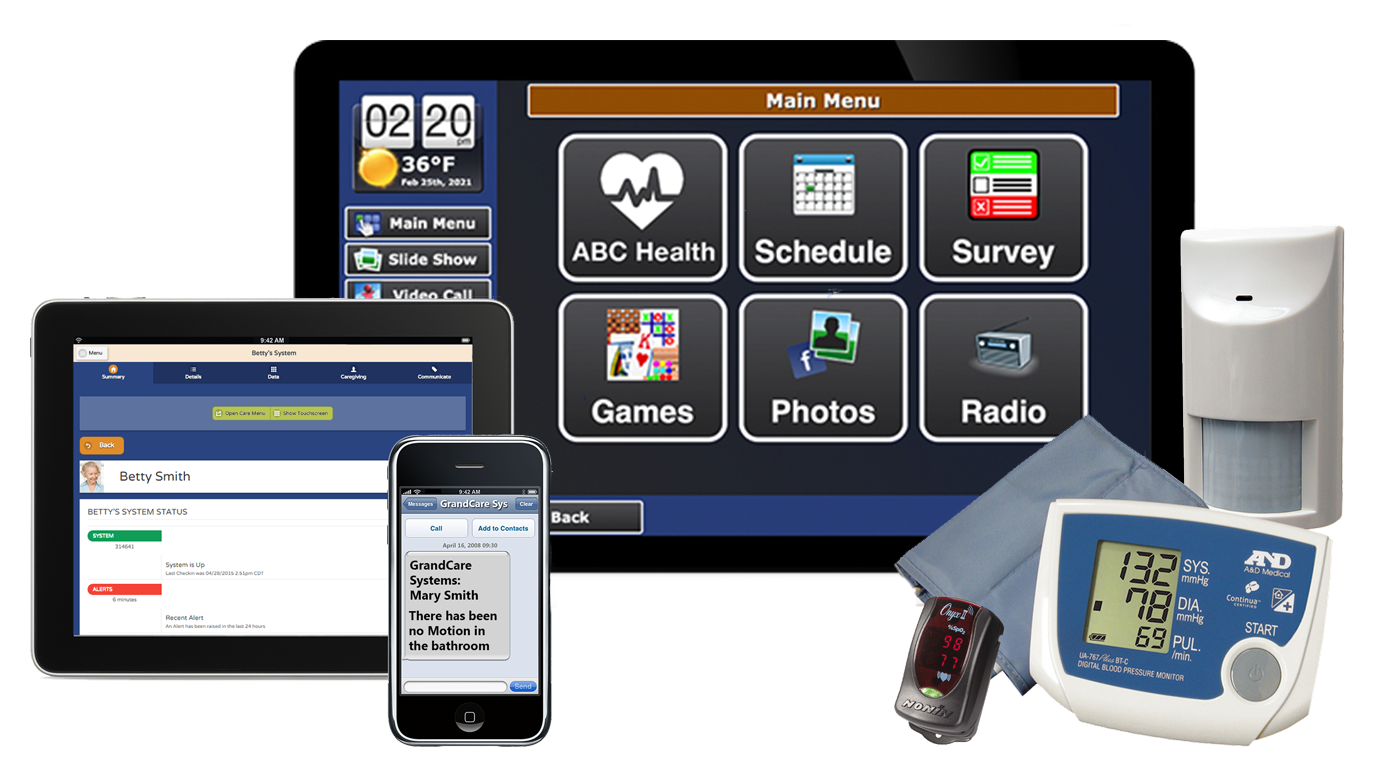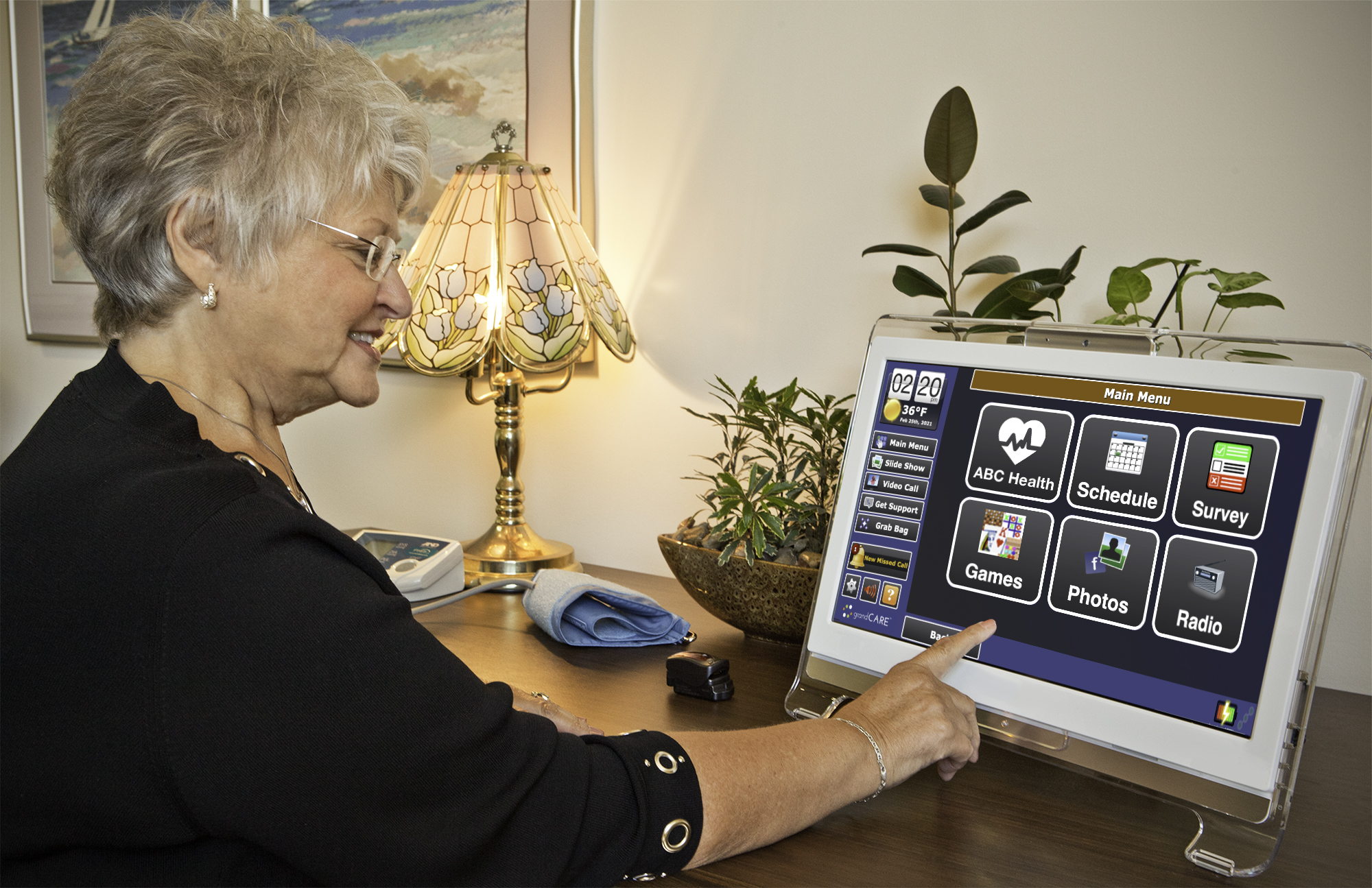 Take your senior living community to the next level with GrandCare in every apartment.
Residents will be able to visit virtually with family members, and participate in resident-to-resident video chat and messaging. You'll have community-wide messaging, a daily check-in button, event calendaring, and more. Add in remote vitals or activity monitoring to be alerted if anything seems amiss, and HIPAA-compliant telehealth. Plus, our concierge-style service requests not only enhance the community experience, they lead to new revenue streams for your organization. And with GrandCare broadcasting to every residence, no one will ever again call the front desk to ask if the mail has arrived.
Disability Service Providers everywhere know that people with developmental disabilities can live independently–if they have the right supports.
GrandCare's to-do items lists help clients stay on track through their day. Medication reminders and telehealth devices help with med adherence and chronic health conditions. For complex tasks, there are detailed activity reminders. They not only read the activity's steps aloud, they even play a video showing what success looks like. And when personal support is needed, help is just a video call away. Independence is achievable with GrandCare-enhanced living.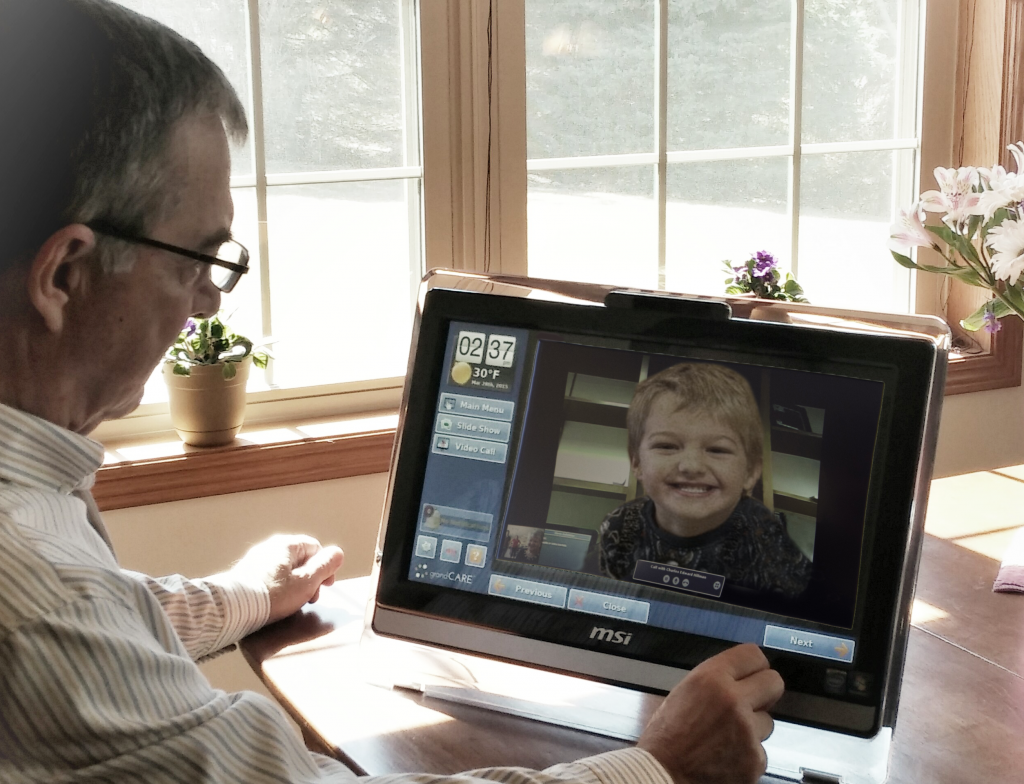 Ready to learn more? Request a free demo now.
Let us show you what makes GrandCare the senior home monitoring solution for you.
Latest News
News and articles from the GrandCare blog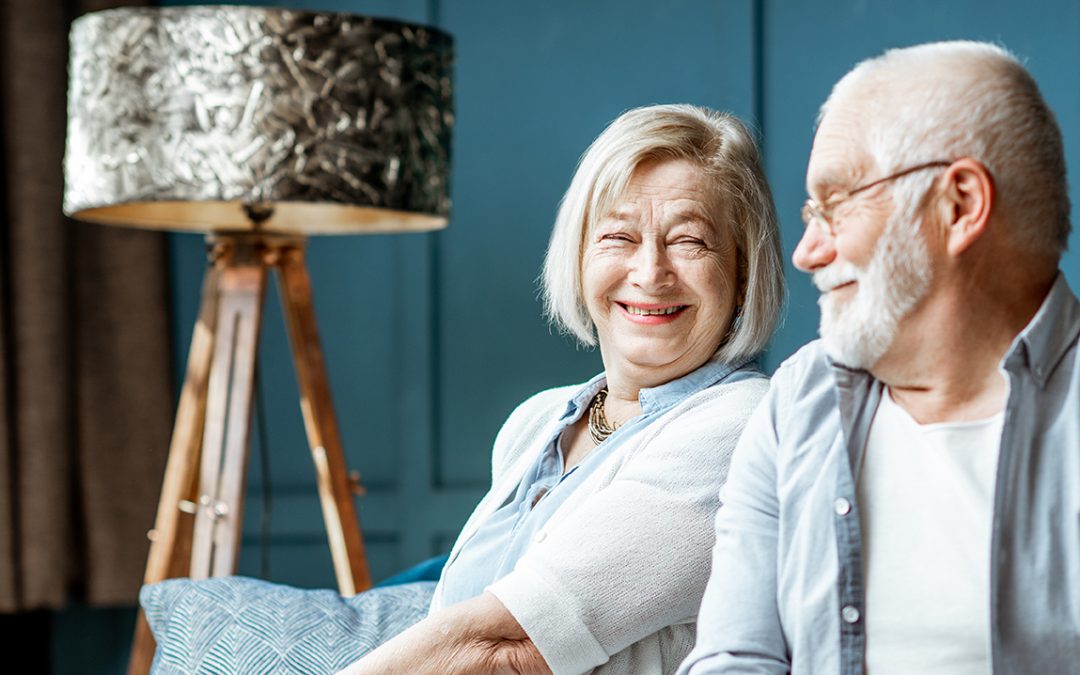 ATTENTION aging and disability service home care providers! Are you struggling with staff retention? Would you like to serve more clients without increasing staffing? Do you want to improve transparency and prove your credibility and accountability to future clients?...
Upcoming Events
GrandCare events, conferences, and more
There are no upcoming events at this time.
Read our featured articles and case studies
What to look for in a senior home monitoring system
10 most important features to look for in senior home care technology
Does it work? Yep. And now we can prove it.
We have always believed that technology could keep seniors safe, healthy, and connected.
She refused any and all care. That is, until she met GrandCare.
GrandCare provided value for her and her caregivers.