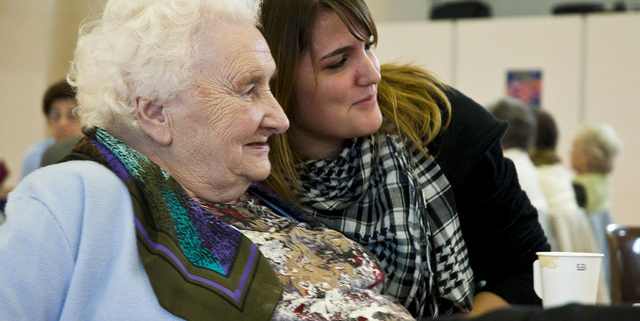 GrandCare for Elderly Woman and Her Caregivers
She Refused Any and All Care. That is, until she met GrandCare.
Sometimes people who need the care the most simply will not accept it. They resist it for many reasons. Perhaps it is denial that assistance is needed, or perhaps the thought is scary. Or maybe they don't like the way it feels to need care. And, if human caregivers and family members can't convince someone to accept help, is it a dead end?
The answer is that there has to be something "in it" for the care recipient. There has to be value.
GrandCare became that value for an elderly woman and her caregivers in Canada.
She had been refusing to allow her caregivers to help her. This was frustrating and concerning for everyone involved. The woman obviously required support. The family didn't know what to do. Then, one clever caregiver had a brilliant idea involving GrandCare technology. She brought a GrandCare large touch appliance into the woman's room already equipped with many engaging and nostalgic family photos, videos, personal messages, games and other items of personal interest.
The next time the caregivers came, they started the visit by engaging with her on a personal level. They asked about the photos and memories displayed on the GrandCare slideshow. The interaction was transformed. Not only was she now willing and excited to engage in these personalized conversations, she was also now willing to accept the other assistance she needed from the caregiving staff.
It was a perfect example in that attending to social and engagement needs first will lead to an all around healthier and happier life. While vital and activity monitoring capabilities are critical, the socialization and inspirational features of the GrandCare can be equally important.
https://www.grandcare.com/wp-content/uploads/2019/04/grandcare-senior-tech.jpg
480
640
info@lmcllc.us
https://www.grandcare.com/wp-content/uploads/2021/05/grandcare-logo-300x138.png
info@lmcllc.us
2017-04-17 16:14:42
2017-04-17 16:14:42
GrandCare for Elderly Woman and Her Caregivers