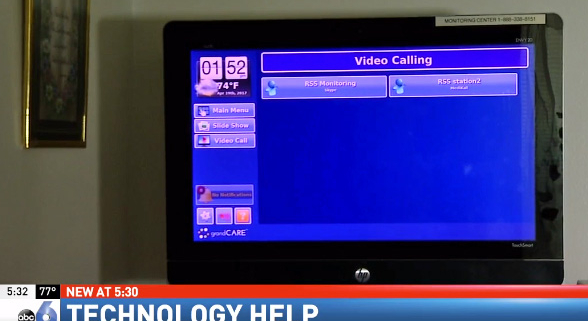 RSS Monitoring Using GrandCare to Help State of Ohio Give Better Care
The State of Ohio is one of GrandCare's newest fans. And it's not just because of our rock star good looks.
A recent segment on ABC 6 On Your Side highlighted GrandCare affiliate RSS Monitoring, and its successful implementation of GrandCare technology, to help save the State of Ohio a lot of money in taking care of disabled residents who need nursing care provided in their homes.
The State of Ohio is experiencing a shortage of home health aides. It's cheaper for people to receive care in their homes, but the staffing shortage meant that people were getting less care than they needed, or care that wasn't as good as it should be. That's why, four years ago, RSS turned to GrandCare for a solution.
"The technology in that case takes the place of a staff person," said John Martin, Director of the Department of Developmental Disabilities. "It's one of those neat things where we're both good stewards of the taxpayers' dollars and it improved the quality of life of some of the folks we're serving."
The numbers of dollars saved are larger than you might imagine.
According to the ABC news report, "Martin said each person who uses that technology saves the state between $10,000 to $100,000 compared to the cost of having an around-the-clock home health aide."
Residents are helped by a variety of GrandCare's monitoring capabilities. Examples include:
"People with autism who function better with a predictable routine can have a sensor in their shower to make sure they're getting their morning started on the right track. People who suffer seizures can have a sensor detect if they've fallen and might need help."
The residents like the results.
"People help me out," said Becky Ross who suffers from seizures and now has sensors on her floors to detect if she's fallen. "I can be more independent (with the sensors)."
If the sensors in Ross's home go off, she will get a video call to make sure she's okay. If she's not, emergency help will be sent to her home.
Currently 170 people have sensors like that installed in their homes. Thanks to the success of this four-year venture, Gov. Kasich's budget would now expand the program to cover roughly 600 people.
GrandCare is proud to be a part of this effort. We created GrandCare as a way to improve the lives of so many people. And we're delighted that in the process of helping their residents, Ohio has found that our systems can help save their taxpayers big money.
https://www.grandcare.com/wp-content/uploads/2017/05/GC-ABCNews-Ohio.jpg
339
588
info@lmcllc.us
https://www.grandcare.com/wp-content/uploads/2021/05/grandcare-logo-300x138.png
info@lmcllc.us
2017-05-23 11:00:52
2017-05-23 11:00:52
RSS Monitoring Using GrandCare to Help State of Ohio Give Better Care