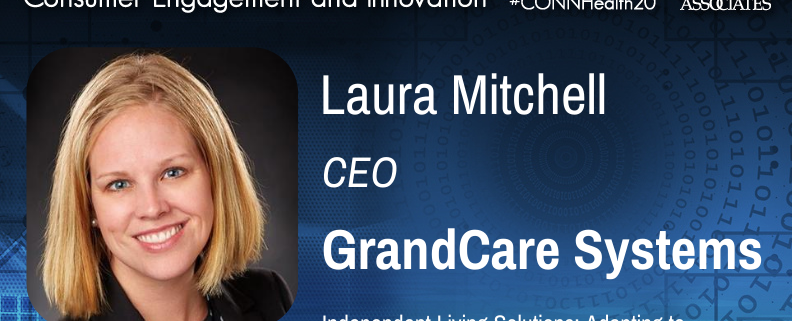 GrandCare to Speak on Independent Living Solutions at Connected Health Summit: Consumer Engagement and Innovation
Remote patient monitoring and virtual caregiving technology pioneer GrandCare Systems announced that their CEO, Laura Mitchell, will be speaking this week at the virtual 2020 Connected Health Summit: Consumer Engagement and Innovation, held September 1-3.
The Connected Health Summit, hosted by research firm Parks Associates, provides industry players with in-depth analysis on the implications of the connected healthcare revolution – and the resulting consumerization of healthcare – for multiple industries: broadband service providers, retailers, device makers and distributors, and health systems and providers.
This year has provided unprecedented challenges and new opportunities for the independent living, senior housing and healthcare industry. "COVID has presented some unique opportunities for innovation to eliminate the struggles seniors and the disability population are facing during these times," said GrandCare CEO, Laura Mitchell. "Before the pandemic, technology was only a 'nice to have,' but now it's essential. I believe this will be a permanent change in how we deliver care."
Session Info
Independent Living Solutions: Adapting to Market Acceleration
Tuesday, September 2, 11am CT
Track: COVID-19 exposed the vulnerability of our senior population. In addition to the high risks of infection, the necessity of social distancing exacerbates seniors' social isolation and makes family caregivers' jobs even more difficult. Demand for communication, telehealth, and independent living solutions to assist seniors in living well and safely at home has never been greater. This session explores how service and technology providers are responding to this new demand and what the independent living market will look like coming out of the COVID-19 crisis.
Speakers:
Chuck Hector, Chief Revenue Officer, Papa
Sarah Jones, Vice President, Commercial Product, Best Buy Health
Laura Mitchell, CEO, GrandCare Systems
Kian Saneii, CEO, Independa
Moderator:
Jennifer Kent, Senior Director, Parks Associates
The 7th-annual Connected Health Summit will take place virtually September 1–3, 2020. www.connectedhealthsummit.com. To register visit, http://www.parksassociates.com/events/connected-health/register. Follow the conference on Twitter at @CONN_Health_Smt and #CONNHealth20.
ABOUT GRANDCARE SYSTEMS
GrandCare, on the market since 2005, is designed to reduce hospitalizations, manage health conditions and keep individuals more independent and connected to their loved ones. The heart of GrandCare is a large touchscreen appliance, which provides the individual with social communications, games, music, instructions, reminders and medication prompts. Optional telehealth & activity devices can wirelessly report information and remotely send email, text and phone alerts to caregivers if something seems amiss. No computer skills are needed for the resident. GrandCare is utilized by family caregivers, professional in-home care organizations, senior housing communities and disability providers. For more information, visit: www.grandcare.com, call 262-­338-6147, or send an email to: sales@grandcare.com.
ABOUT CONNECTED HEALTH SUMMIT
Connected Health Summit: Consumer Engagement and Innovation is a three-day executive conference focused on the impact of connected devices and IoT healthcare solutions on consumers at home. Connected Health Summit anticipates increasing demand for both clinical and consumer health and wellness solutions aimed at improving the quality of life for people living and seeking support at home. The expansion of connected medical devices and telehealth services into the home, as well as the increasing movement of connected consumer devices into health and wellness, is growing new markets for independent living solutions that serve the elderly, patients with chronic conditions, rural households, and caretakers. Subscribe to Parks Associates' digital health newsletter at http://www.parksassociates.com/newsletters_subscribe.
https://www.grandcare.com/wp-content/uploads/2020/09/CHS-2020-Speaker-Laura-Mitchell-Grandcare-Systems-1.png
528
792
info@lmcllc.us
https://www.grandcare.com/wp-content/uploads/2021/05/grandcare-logo-300x138.png
info@lmcllc.us
2020-09-01 20:50:32
2020-09-01 20:50:32
GrandCare to Speak on Independent Living Solutions at Connected Health Summit: Consumer Engagement and Innovation