GrandCare Support
Tech Help For Elderly Care
If you have GrandCare and you have questions, you're in the right place!
For immediate support, download our top troubleshooting tips here, or chat live with GrandCare support using Live Chat (bottom, right corner of the screen), or call 262-338-6147 (9 to 5 Central Time, Monday through Friday)
How do you GrandCare?
A family guide.
Someone you care about just got a GrandCare touchscreen. Pretty cool. But how can you, as a family member or friend, get in on the action?
Take a look at the instructional videos on this page. They show how you can use GrandCare to share photos, send messages, make to-do reminders, place a video call, and more! And don't forget to download the GrandCare app for iPhone. It's available free on the App Store. All you need to get started is a PC, laptop, or any internet connected device. Welcome to GrandCare!
Do you have other family members who would like to get in on this GrandCare thing? You can invite them! This is how you add Users to your GrandCare.
Did your GrandCare come with motion or door sensors? Great! Let's make some rules. What are rules? They are simple IF/THEN statements that can alert you by text, email, or phone call if certain conditions are met. Here's how you do it.
Still have questions? We've got answers to the most common questions people have asked about GrandCare. We hope you find your question here as well as an answer! And you can always contact us, if you have additional questions.
Hidden Tab
Functionality
DOES GRANDCARE REQUIRE WIFI?
GrandCare requires internet service to work, but it can be either  wireless WiFi or wired ethernet. 
WHAT IF MY MOM DOES NOT HAVE INTERNET AT HOME?
Maybe she should! Many seniors do not have internet access at home because they have never had a need for it before. But she needs video visits and remote monitoring, she now has a need for it. Tip: Ask if your local internet service provider has a discount for seniors. 
HOW HARD IS THIS TO INSTALL?
It's simple. Plug it in, turn it on, connect to the internet. If your GrandCare has motion sensors or health devices, they will have already been paired with the GrandCare and are ready to place around the home. 
CAN I PUT THIS IS IN MY MOM'S ROOM IN HER SENIOR LIVING HOME?
Yes. You will want to let them know first and you'll also need to ensure there is an internet connection available.
HOW EASY IS IT TO USE?
It is so intuitive to use that the resident does not need any previous computer experience to enjoy it! It features large, easy-to-read icons and can be fully customized to have as few or as many buttons as needed.
HOW EASY IS IT FOR THE RESIDENT TO USE THE VIDEO CHAT? 
To call someone, the resident simply needs to touch that person's name on the touchscreen.
WHAT HAPPENS IF THE RESIDENT DOESN'T USE THE TOUCHSCREEN? CAN I "DROP IN" WITH VIDEO CHAT? 
Yes, with an administrator role, you can "drop in" using the video chat, and the resident will not be required to touch the screen. If you are calling from a browser, click "Auto-Answer" while initiating a video call. If you are calling from the iOS app, click "Request Answer" while initiating a video call.
IS THE VIDEO CHAT SECURE? 
Yes. GrandCare's video chat is encrypted end-to-end and is fully HIPAA-compliant.
HOW DOES GRANDCARE TELL ME IF SOMETHING IS WRONG?
You can set rules that notify you – by phone, email, or text – when particular conditions are met (e.g. if there is no motion from 9am – 11am in the kitchen, call/email/text me). The sensors constantly report to the system.
ARE THE SENSORS WIRELESS?
Yes, the various sensors – motion, door, etc. – use either the Z-Wave or Inovonics wireless communication protocol.
IS GRANDCARE SUSCEPTIBLE TO SPAM, MALWARE, OR OTHER SECURITY THREATS?
GrandCare cannot receive spam email. There are no file attachments or downloads of any kind, thus minimizing the possibility of malware. The video chat function requires a specified group of whitelisted callers to ensure all calls are known to the resident. GrandCare is built on a hardened Linux operating system and is much more secure than other commercially available computers.
Setup
IS IT EASY TO SET UP?
Yes. Plug it in, turn it on, connect it to the Internet.
DO I NEED TO HAVE A PROFESSIONAL INSTALLER?
It's easier to set up than a typical desktop computer. A resident's family members are usually fully capable of performing basic GrandCare setup. A more advanced GrandCare setup might require some help from a trained GrandCare team member or affiliate.
HOW DO I LOG IN AS A CAREGIVER?
Go to the Online Care Portal and log in with your email and password.
HOW DO I INVITE OTHER FAMILY MEMBERS TO PARTICIPATE?
There's a video that explains how to do that right here!
HOW DO I DO A VIDEO CHAT WITH THE RESIDENT?
You can start a video chat from an internet browser (Google Chrome is recommended) by logging into the Online Care Portal, or from an iOS device by logging into the GrandCare app. The resident accepts the call at the touchscreen.
HOW CAN I ADD MORE PEOPLE WHO CAN VIDEO CHAT WITH THE RESIDENT?
To add more people who can video chat with the resident, you need to have an administrator role (e.g. Account Admin). As an administrator, log into the Care Portal, click Users, then click "Add User," and, finally, fill out the Add User form. The new user will receive an activation email. 
HOW DO I SET UP PEOPLE TO HAVE DIFFERENT LEVELS OF ACCESS?
If you are an administrator, you will be able to create users with different levels of access. You set the level by choosing the proper role for each user you are creating. To learn more about the different roles, see https://help.grandcare.com/index.php/User_Roles_and_Privileges.
WHAT IF SOMEONE MISPLACED THE ACTIVATION EMAIL?
If this activation email is misplaced, you can resend it by navigating to that user and clicking "Send Activation". If necessary, have that user confirm that the activation email did not go to a spam email folder.
HOW DO I SET UP ALERTS?
You can set up alerts inside the Online Care Portal by accessing the Care Menu, and then selecting the functionality (e.g. Activity, Wellness, Medication) for which you would like to set up an alert.
CAN I HAVE PEOPLE RECEIVE ALERTS EVEN IF THEY AREN'T LOGGED IN?
Yes, caregivers can receive alerts even when they aren't logged in.
HOW DO I CHANGE THE TOUCHSCREEN BUTTONS?
You can change what buttons a resident will see on the touchscreen by configuring them in the Online Care Portal. Open the Care Menu, click "Touchscreen," click the "gear" icon, and then click "Manage Apps" to see the options for configuring.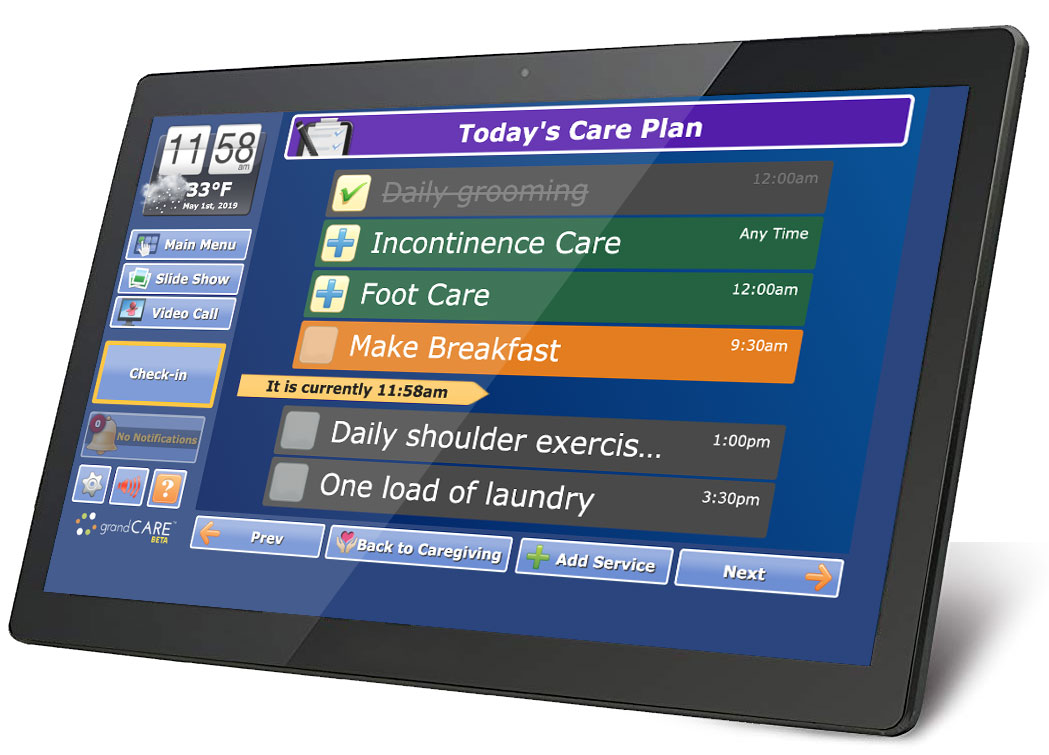 Touchscreen
In general, leave the system powered and on the Internet at all times. For this reason, it is better not to plug the system into a switched outlet, or to have it attached to an Internet connection that is regularly turned off (e.g. at night).
If the bright screen is distracting to the resident at night, use the "Screen Off Between" Touchscreen Care Menu functionality, which darkens the screen automatically, without powering the system off or disconnecting it from the Internet, during a specified time range each day.
If your loved one needs sound volume to be higher than the touchscreen's maximum volume setting, you can connect a speaker to the touchscreen.
For affiliates: Before deploying a system that has been powered off in inventory for some time, power it up, connect it to the Internet, and let it sit for at least an hour so that it can catch up on updates.
Photos
Adding personal photos (e.g. photos of relatives) to a system before installing it in your loved one's room can facilitate your loved one's adjustment to the system.
Z-Wave
If you want to connect a Z-stick to one of the USB ports of an iView 1760, use a USB extension cable (instead of connecting the Z-stick directly to the iView USB port) to allow the iView 1760's kickstand to be level.
When you first start using a Z-Wave peripheral, be sure to check its battery compartment to make sure there isn't a manufacturer's plastic sleeve shielding the battery from making electrical contact.
Video Call
We recommend using Google Chrome as an Internet browser for video calling.
For video calls with the iOS app, be sure to allow GrandCare access to your device's camera and microphone. If you are not sure, go to your iOS device's Settings, scroll down to select the GrandCare app, and then make sure the "Allow GrandCare to Access" settings for the Microphone and Camera are both on.