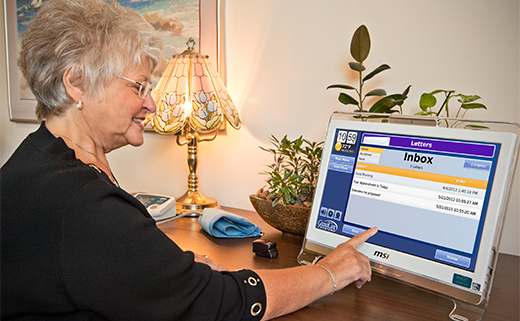 Developing a New Model of Care
By: Laura Mitchell
The digital health technology industry is ramping up quickly, and everyone understands the critical and immediate need for enabling technologies to turn our man-on-man caregivers into zone caregivers. The technology works. Study after study proves that telemedicine does benefit patients, medication adherence technologies do help mitigate hospital readmissions, and that loneliness and isolation do decrease. The implementation difficulties lie not in the technologies themselves, but instead in the delivery of the model of care, utilizing these new omniscient technologies. So, how do we do it? That's a whole different question.
The most difficult thing in this "new" aging in place technology industry is determining who uses the technology, who pays for it, and how to encourage resident and caregiver compliance with technology.
At GrandCare, we utilize digital health, activity remote monitoring, touchscreen-based socialization, media sharing, and video chat as a platform to connect caregivers to aging loved ones or clients, while providing the caregivers with proactive, preventative information to enable the safety and independence of the care recipient.
Sounds like a good idea, right?
We thought so…in 2005. That's when we started this amazing and fantastically frightening journey of trying to convince the industry that there actually was a need. The trick at the time was to persuade the world that technology could actually play a role in helping to care for a loved one. The technology would NOT be a cyborg that dismissed the need for a personal caregiver, but instead could enhance hands-on caregiving. The notion would be that the centerpiece socialization piece would engage the care recipient by providing games, entertainment and information (weather, news, etc.), while connecting them to family through picture/video sharing, letter exchanges, scheduling, and one-touch video chatting.
Meanwhile, a series of optional wireless devices (bluetooth blood pressure devices, glucometers, motion detectors, indoor temperature readers, etc.) would sit passively around the home and report on potential red flags. For example, if a person did not get out of bed in the morning, didn't access a fridge at mealtime or if the indoor temperature was out of range, someone could be notified.
To those nay-sayers of technologies to promote independence at home, I honestly don't get it. Perhaps these are the same folks that were completely appalled at the idea of telephones. Would anyone personally visit anyone anymore? Or remember when answering machines came out and it was appalling to think about talking to a machine? I was involved in the very early days of an Internet Service Provider (the first in our county in Wisconsin) and I recall teaching classes called Internet fundamentals where I explained the "Internet" using library analogies, taught the finer arts of how to install Netscape Navigator on a CD. I taught HTML fundamental classes and advised a number of local businesses on how the Internet was going to better their businesses and why they needed websites. I recall many saying the idea was interesting, but their customers would NEVER be directed to a computer and instead would always demand to talk to a live person. Some of these same companies provide today the finest web experience, online stores and help centers with live chat features (yes, this does go to a real person).
The amount of horrified comments about how folks would rather die than have any piece of assistive technology was, well, insane. Forget about the irony in which people posted how much they hate technology on an Internet chat forum, but why the fear? Why the anger?
#grandCAREworks #ItActuallyWorks
Laura is a founding member of GrandCare Systems and remains a strategic growth advisor for the pioneer digital health organization.
https://www.grandcare.com/wp-content/uploads/2016/01/GC-esther-inbox.png
337
520
info@lmcllc.us
https://www.grandcare.com/wp-content/uploads/2021/05/grandcare-logo-300x138.png
info@lmcllc.us
2016-01-12 21:02:32
2016-01-12 21:02:32
Developing a New Model of Care