"It brings tears to my eyes when my mom gives me a video call just to say hi. Or, the other night, she was asking for 'more chocolate, please.' GrandCare is a wonderful thing for us." Kate J.
"Grandcare has played a pivotal role in keeping my mom living the way she wants to — independently. Since she's now 97 (98 at the end of May) that's saying something!" Sandra E
"It's very entertaining and some of the jokes that are on there I said oh boy I can send these to my friends. They send me jokes and I don't know where to get any." – Mrs. C
Activity Monitoring Features
Sandy Halperin's story on GrandCare and his Early-Onset Alzheimer's Disease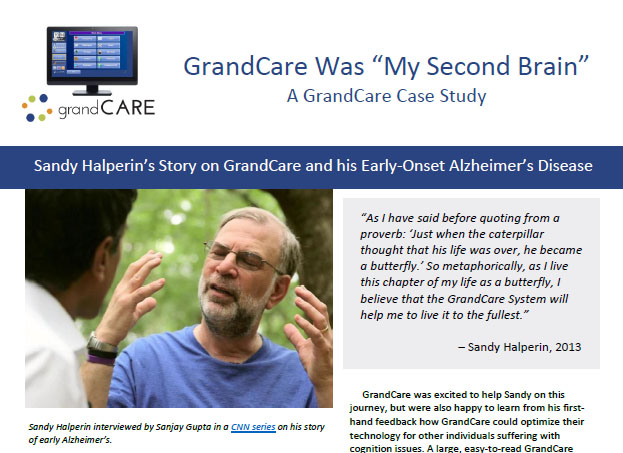 In 2013, Alexander Sandy Halperin reached out to GrandCare. He wondered how involved GrandCare was in creating enabling technologies for people with Alzheimer's. He had a good reason for being interested.
Read more:








2017 Naidex Professional Award Winner
The Naidex organization celebrates a service, technology or product that directly benefits those working in the care, rehab, or independent living industries, making an immeasurable contribution toward the healthcare profession both now and into the future.

2012 First Annual AARP Sterling Award Winner and Silvers Choice Award Winner
The Sterling Awards are sponsored by AARP and were presented at a special event during the Silvers Summit at CES 2012 to identify the peerless products that enhance, empower and exemplify the lifestyles of the Boomer and Silvers audience.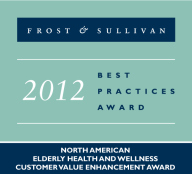 2012 Frost & Sullivan Best Practices Award
2012 Frost & Sullivan, North American Elderly Health and Wellness Customer Value Enhancement Award. This award recognizes GrandCare for offering an extensive, cutting-edge, elderly health and wellness solution.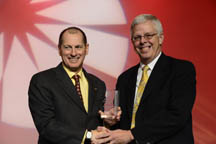 2012 CEA Innovation Entrepreneur Awards Winner: Small Business of the Year
Launched by It Is Innovation (i3), formerly Vision Magazine, and the CEA Small Business Council, CEA's Innovation Entrepreneurship Awards Program recognizes entrepreneurs leading businesses with revenues under $30 million and the contributions they make to the U.S. economy.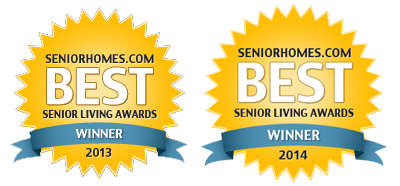 Most Innovative Senior Living Product Awards
For the second year in a row, GrandCare Systems® has been announced as the winner of SeniorHomes.com's Best Senior Living Award for "Most Innovative Senior Living Product".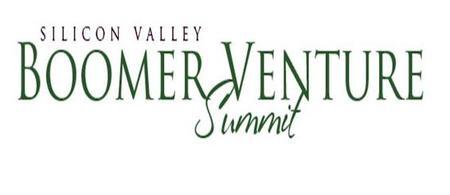 2011 Mary Furlong & Associates, Boomer Venture Summit: Flame Award for Excellence in Leadership and Innovation
The What's Next 2011 Boomer Business Innovation Awards were presented at the eighth annual What's Next Boomer Business Summit during the awards ceremony and reception.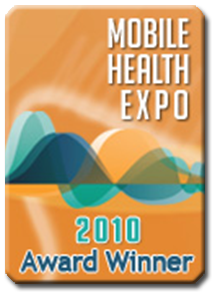 GrandCare Systems Selected as Mobile Health Expo 2010 Award Winner
GrandCare received an award from the Mobile Health Expo 2010 for the following category: Outstanding Contribution to the Growth and Success of Aging in Place using Mobile Health Technology.
2011 ABBY AWARD Nominee
GrandCare was selected as a finalist by a Committee composed of ABL Members who are C-level healthcare executives with deep domain knowledge in each of the Award areas.