GrandCare has made our staff more efficient, while improving the quality of care. Our residents love it. Connecting them to family has reduced isolation and made residents happier to be at Evergreen. It's given us a game-changing advantage over our competitors.
"GrandCare has changed the way we offer care. We use it to remotely monitor our clients' vitals and quickly identify if a physical nursing visit is needed. It's been a Godsend for our hospice clients who use it for end-of-life conversations."
"The greatest benefit of this must-have system is in its ease of use, to maintain independent living at home through coordinated care and supervision."
"I LOVE GRANDCARE! Best Management tool in this industry!"
"Scott and GrandCare solved a thorny problem for my 95 year old mother who was living by herself. The software, hardware and customer attention were above and beyond. I can't say enough about Scott and his staff and their caring and expertise."
"I absolutely loved the system!! It was so easy to use and I loved that I could load the pictures remotely and my mom didn't have to answer when I called it automatically- connected. I would absolutely recommend the system to anyone!"
"GrandCare is amazing and I recommend it all the time – for the reliable and comprehensive options as well as for the incredible personal customer service I've received over the years."
"The monitoring allows me a sense of peace that she is up and starting her day."
"I like all the new improvements you guys have been making on it, and I play with a lot of that stuff every so often to keep my mind refreshed, you know, and do things. Actually, I think it helps my memory and stuff."
"The biggest thing that he uses with the system is the touchscreen unit to look up things of interest on the internet, access his calendar to see who is working with him and what is planned for the day, and get his reminders for medication, etc. He also loves to get pictures that I send him on the touchscreen, and he also gets messages from me and the supervisor of his service provider agency. He would be lost without the touchscreen; it keeps him connected in many ways."
Activity Monitoring Features
Sandy Halperin's story on GrandCare and his Early-Onset Alzheimer's Disease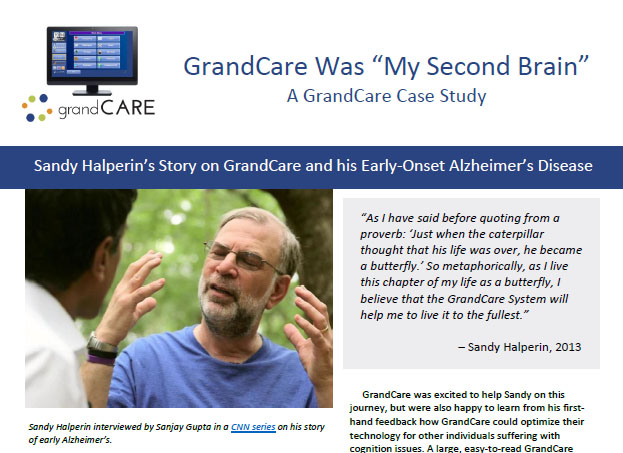 In 2013, Alexander Sandy Halperin reached out to GrandCare. He wondered how involved GrandCare was in creating enabling technologies for people with Alzheimer's. He had a good reason for being interested.
Read more:








2017 Naidex Professional Award Winner
The Naidex organization celebrates a service, technology or product that directly benefits those working in the care, rehab, or independent living industries, making an immeasurable contribution toward the healthcare profession both now and into the future.

2012 First Annual AARP Sterling Award Winner and Silvers Choice Award Winner
The Sterling Awards are sponsored by AARP and were presented at a special event during the Silvers Summit at CES 2012 to identify the peerless products that enhance, empower and exemplify the lifestyles of the Boomer and Silvers audience.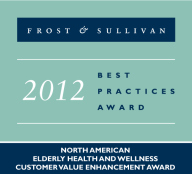 2012 Frost & Sullivan Best Practices Award
2012 Frost & Sullivan, North American Elderly Health and Wellness Customer Value Enhancement Award. This award recognizes GrandCare for offering an extensive, cutting-edge, elderly health and wellness solution.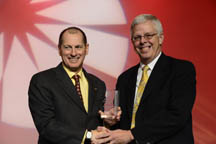 2012 CEA Innovation Entrepreneur Awards Winner: Small Business of the Year
Launched by It Is Innovation (i3), formerly Vision Magazine, and the CEA Small Business Council, CEA's Innovation Entrepreneurship Awards Program recognizes entrepreneurs leading businesses with revenues under $30 million and the contributions they make to the U.S. economy.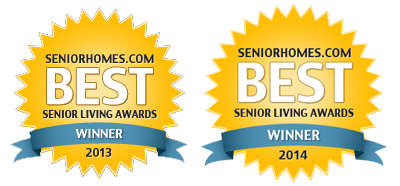 Most Innovative Senior Living Product Awards
For the second year in a row, GrandCare Systems® has been announced as the winner of SeniorHomes.com's Best Senior Living Award for "Most Innovative Senior Living Product".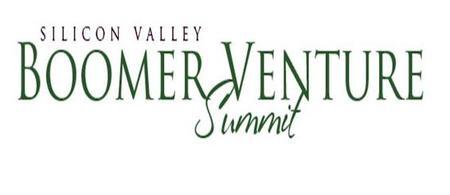 2011 Mary Furlong & Associates, Boomer Venture Summit: Flame Award for Excellence in Leadership and Innovation
The What's Next 2011 Boomer Business Innovation Awards were presented at the eighth annual What's Next Boomer Business Summit during the awards ceremony and reception.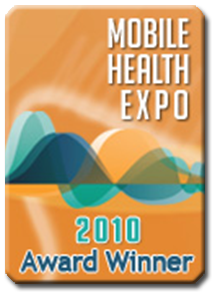 GrandCare Systems Selected as Mobile Health Expo 2010 Award Winner
GrandCare received an award from the Mobile Health Expo 2010 for the following category: Outstanding Contribution to the Growth and Success of Aging in Place using Mobile Health Technology.
2011 ABBY AWARD Nominee
GrandCare was selected as a finalist by a Committee composed of ABL Members who are C-level healthcare executives with deep domain knowledge in each of the Award areas.