How to Best Implement Assistive Technology for Disability Smart Homes
About three years ago, GrandCare was approached by a Cincinnati-based disability support provider called LADD. They told us they wanted to completely reinvent their service delivery model using technology, and they asked us if we would help them do it. We said yes.
We worked with LADD and some of the people they support to develop new features and functionality specifically designed for the intellectual/developmental disabilities (IDD) population in community supported living settings. Then, about two years ago, four men moved into a brand new smart home–a home that had a GrandCare touchscreen in every room. These young men had never lived without supervision before, and weren't sure they could.
That was two years ago, and the guys who moved into that house are still there today, living independently and loving it. They, and the smart home they live in, constitute an incredible success story.
But you don't have to take our word for it. Researchers at Xavier University followed the project from the beginning and have now published their incredible findings. The highlights include:
LADD was able to safely reduce in-person support hours by 75%
This cut the total cost of support in half
The technology in the smart home paid for itself in under 9 months
Is your organization interested in replicating these results? You're going to want to talk to the people who did it first: GrandCare and LADD. That is why we are co-hosting a free webinar on August 17th, 2022. Representatives from both organizations will be discussing everything we've learned along the way, and also the findings of the Xavier study.
Register now for this free, one-of-a-kind webinar.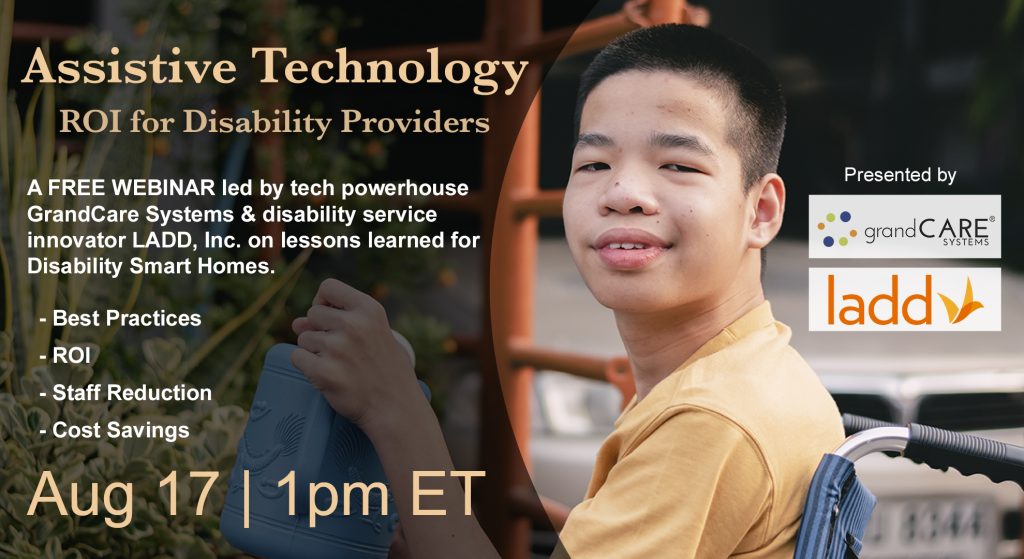 Assistive Technology ROI for Disability Providers
Free Zoom Webinar
August 17, 1:00pm ET (12:00pm CT)
Register at https://us06web.zoom.us/webinar/register/WN_NrUHRoeARTuNDm2NpvRi2w
About GrandCare
GrandCare is a large touchscreen that can improve the lives of developmentally disabled individuals, as well as the disability support providers they depend on. GrandCare provides cognitive assists, remote activity monitoring and virtual visits that helps people with disabilities stay safe, social and independent. Learn more about GrandCare's assistive technology for disabilities at our site.
https://www.grandcare.com/wp-content/uploads/2022/08/young-man-in-wheelchair-holding-watering-can.jpg
1080
1979
info@lmcllc.us
https://www.grandcare.com/wp-content/uploads/2021/05/grandcare-logo-300x138.png
info@lmcllc.us
2022-08-04 10:00:57
2022-08-05 16:32:19
How to Best Implement Assistive Technology for Disability Smart Homes